Famously Dead A-Z:

Cause of Death:
View information about Hugh Hefner's death here on famously-dead.com. You can view information about Hugh Hefner's death and other famous deaths. You can view by name or by cause of death. We also have included the most popular famous deaths.
Hugh Hefner's Death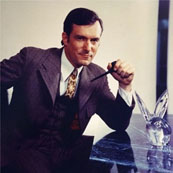 Hugh Hefner
Business Mogul
April 9, 1926
September 27, 2017
Natural Causes
The life and death of Hugh Hefner:
He was the godfather of the sexual revolution, bringing female nudity to the pages of a slick, glossy magazine that was more mainstream than anything that had preceded it. Before they were R-rated movies in theatres, before there was nudity on cable TV and streaming video, Hugh Hefner is the person who brought the naked female form to the masses via mass media. And he used that fame to propel his political causes and philanthropic pursuits.
Hugh Marston Hefner was born in Chicago, the son of a couple of school teachers from Nebraska named Glenn Hefner and Grace Swanson. His mom was of Swedish descent and his father had English and German ancestors. Hugh described his upbringing as conservative and Midwestern.
He attended schools in Chicago and during World War II served as a writer for a U.S. military newspaper. He graduated from the University of Illinois in 1949, after his military service ended.
He started out as a writer for Esquire magazine but quit over a five dollar raise. He quickly figured the best way to really score with his writing ability was to create his own magazine.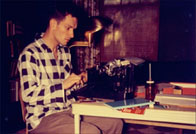 Thus, came the idea for "Playboy", launched in December 1953. His original plan was to call it "Stag Party", to give an idea what was to come.
Hugh's writing was not what most people were buying that magazine for. What they wanted were the photographs of beautiful, shapely women shown without clothing, something that had never been accomplished successfully in the mainstream.
His first cover girl was movie sexpot Marilyn Monroe.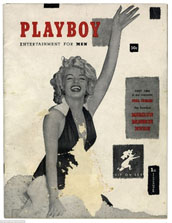 Of course, there were films and photographs of naked women before but it was never done in the way that Hefner did it with his girl next-door image. He bolstered his case with articles designed to attract a hip or more educated crowd, including interviews with trendsetters and pacemakers in the fields of the arts music and politics.
For instance, in 1966, Hef hired "Roots" author Alex Haley to interview American Nazi George Lincoln Rockwell. Later political subject included Malcolm X and Dr. Martin Luther King.
Of course, the big joke was guys read Playboy for the articles. And not everyone was charmed as Hef, as he was called, was arrested for obscenity in 1963 for publishing nude shots of actress Jayne Mansfield.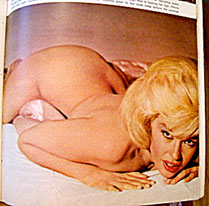 But Hefner expanded the idea by opening a series of Playboy Clubs in major cities in America…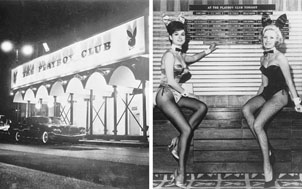 …with women dressed in revealing bunny outfits, serving drinks and tantalizing the crowds. He developed TV programs, like "Playboy Penthouse" and "Playboy After Dark", in which he celebrated the cool and hip with guests on the show.
His Playboy Mansion in California was the site of many sex-fueled parties…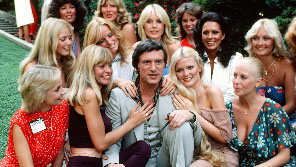 …and helped lead to the downfall of some major stars including the very popular actor-comedian Bill Cosby…

…for the things that went on there. The Mansion was sold in 2016 for 200-million dollars.
And Hefner made no secret of his taste for sampling his merchandise. In fact, he was partners with a few of his playmates, the centerfold girl of the month – including Barbi Benton, Holly Madison and Bridget Marquardt.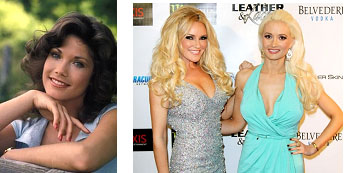 However, before hitting the big time, Hef had a more traditional life and wife, marrying Millie Williams in 1949…
…and having a daughter, Christie, and son, David. And this relationship may have also spawned the Playboy concept itself, because before they married, Millie confessed she had an affair while Hef was away in the service. He was crushed by the admission and – to make up for it – Millie agreed to allow him to engage with other women, to make up for her infidelity.
But they divorced anyway in 1959, dashing her hopes it would preserve the marriage. Hef was now living his playboy dream.
But with the women's rights movement gathering steam, Playboy lost its edge and slowly retreated from the bar scene, resorts and the TV cameras. Hef eventually had to give up control to his daughter Christie in 1988.
And it was decided for a brief period to remove the nudity from the magazine but a few weeks before Hefner died his youngest son, Cooper, whose mom was Kimberley Conrad…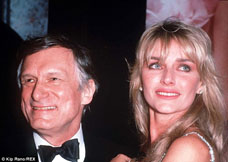 …would take it over the operation. Cooper decided to put the nude women back, to revive the brand.
Hugh Hefner died at his California home at the ripe old age of 91 and is buried in Westwood Memorial Park in Los Angeles, where he bought the mausoleum drawer next to Marilyn Monroe in 1992 for $75,000.