Famously Dead A-Z:

Cause of Death:
View information about Estee Lauder's death here on famously-dead.com. You can view information about Estee Lauder's death and other famous deaths. You can view by name or by cause of death. We also have included the most popular famous deaths.
Estee Lauder's Death

Estee Lauder
Business
July 1, 1906
April 24, 2004
Heart disease
The life and death of Estee Lauder:
She was a woman before her time, creating a cosmetics empire from a humble start. What garages were to some of the high tech titans of the computer era, the kitchen of her home was the cradle of her enterprise.
Joseph Esther Mentzer was born in the Corona, Queens' neighborhood of New York City. Her parents, Max Mentzer and Rose Rosenthal Mentzer were Jewish immigrants from Hungary.
Her mother came to the U.S. with their five children to join her first husband, Abraham Rosenthal. But in 1905 she married Max Mentzer, who was a shopkeeper. And when their daughter was born they named for Josephine - but she was nicknamed Estee, which is what the world came to know her as.
As a child Estee dreamt of becoming an actress with her name in lights and surrounded by handsome men.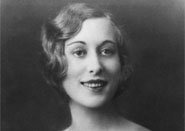 Growing up, Estee agreed to help her chemist uncle Dr. John Schotz with his business. He had a company called New Way Laboratories, selling beauty products like lotions, rouge, fragrances and creams. Her uncle taught her all manner of things, including how to do facial massages. And after graduating from Newtown High School in Queens she focused on her uncle's business.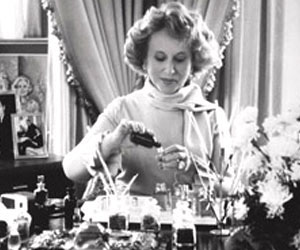 She renamed one potion "Super Rich All Purpose Cream" and began selling to our friends. She later began selling her products to beauty parlors. And by 1953 she introduced her first fragrance, "Youth Dew", bath oil that also served as a perfume.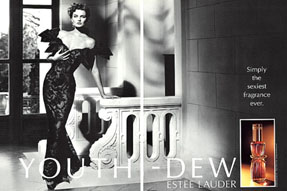 Over the years, her product line expanded, to include brands like "White Linen", "Cinnabar", "Aramis" and "Clinique." And her TV ads used top name celebrity talent, like Madonna.
In a 1985 TV documentary, Estee explained she never worked a day without selling adding that if she believed in something - she sold in and she sold it hard.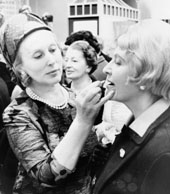 She met Joseph Lauter in her early twenties and they were married in January 1930, later changing the spelling of their last name to Lauder.

They had a son, Leonard, in 1933, separated in 1939 but they remarried in 1942. Second son Ronald was born in 1944.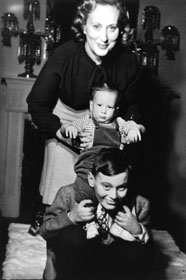 Estee and Joseph remained married until he died in 1982.
Estee broke her hip in 1994 and withdrew from public view, dying of cardiopulmonary arrest in her Manhattan home in April, 2004.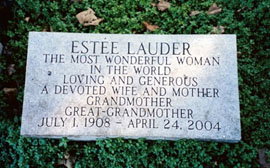 She's buried at Beth-El Cemetery in Paramus, New Jersey.
Her sons inherited the family business and Forbes magazine estimated their net worth north of five billion dollars.