Famously Dead A-Z:

Cause of Death:
View information about Dave Thomas's death here on famously-dead.com. You can view information about Dave Thomas's death and other famous deaths. You can view by name or by cause of death. We also have included the most popular famous deaths.
Dave Thomas's Death
Dave Thomas
Businessman
July 2, 1932
January 8, 2002
Cancer
The life and death of Dave Thomas:
Here's a business mogul who not only became famous because of his products but also for his tenacious way of promoting them. Dave Thomas appeared in more than eight hundred commercials for his Wendy's hamburger chain - more than any company founder in the history of TV.
Rex David Thomas was born in Atlantic City, New Jersey and was dealt a tough hand. His mother was a young unmarried woman he never met. He was adopted at the age of six weeks by Rex and Auleva Thomas. (Later in life Dave became a strong adoption advocate.)
More bad luck arrived at the age of five when his adoptive mother died and his father took him around the country as he searched for work. But in a victory for the boy, Dave spent some time in Michigan with his grandmother, whom he credited with teaching him about treating others with respect. He says those lessons helped him later in life.
His first restaurant job was in Knoxville, Tennessee but he lost it after a disagreement with the owner. Dave and his father moved to Fort Wayne, Indiana, and at age 15 got another restaurant job. When his father wanted to move again, Dave stayed in Fort Wayne and dropped out of school to work full time at the restaurant. He did not earn a GED until 1993, decades after he was a big success in the business world.
He volunteered for the Army when the Korean War broke out and requested an assignment in cook's and baker's school.
By the mid 1950's, Kentucky Fried chicken founder Harlan Sanders came into Dave's life, after the restaurant he worked with became affiliated with KFC. As a franchisee, Dave's the guy who innovated and got Sanders to use a bucket to keep the chicken crisp.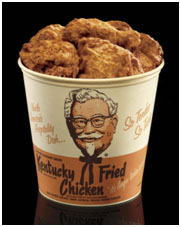 ...and also suggested that Sanders appear in TV Commercials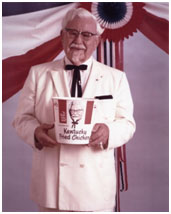 By 1968, Dave turned four KFC stores into such big winners that he sold his interest back to Sanders for one and a half million dollars.
Now he was ready to go out on his own and opened his first Wendy's restaurant in 1969 in Columbus, Ohio. He named the chain after his daughter Melinda Lou, whose nickname was Wendy.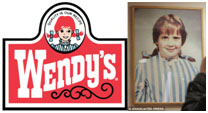 Dave left day to day operations in 1982 but came back after a breakfast menu flopped.
After more than 800 TV ads, Thomas became the face of Wendy's
And when he introduced a new product, other than burgers, Dave was front and center
In doing so, he helped to make Wendy's the third biggest burger chain in the U.S., after McDonald's and Burger King.
Wendy has done some ads of her own.

Dave had four other kids besides Wendy: Pam, Lori, Molly and Kenny.
Dave Thomas died of liver cancer in January, 2002 at age 69 at his home in Fort Lauderdale, Florida. There were more than six thousand Wendy's restaurants operating in the U.S. when he passed.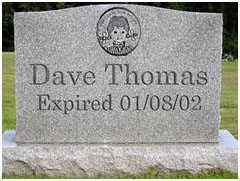 He's buried at Union Cemetery in Columbus, Ohio.