Famously Dead A-Z:

Cause of Death:
How did Prince die? Here on famously-dead.com, you can view information about Prince's death and other famous deaths. You can view by name or by cause of death. We also have included the most popular famous deaths.
Prince's Death

Prince
Music
June 7, 1958
April 21, 2016
Undisclosed
The life and death of Prince:
He was one of the major pop music stars of this generation in a career that lasted more than 30 years. Known throughout its career by a single name, which was his real first name, he wrote, sang and produced many pop hits as an arranger and instrumentalist.
He was also known for his flashy on stage persona and even changed his name to a symbol that no one could pronounce. And on top of all of his musical accomplishments he won an Academy Award to go with several Grammys.
The name on his birth certificate was Prince Rogers Nelson and he was the son of John Lewis Nelson and Mattie Della Shaw. He was born and raised in Minneapolis, Minnesota even though his family – including all of his grandparents - originally came from Louisiana.
His family had a musical background. His mother was a jazz singer and his father was a pianist and the songwriter. Prince's Dad was known as Prince Rogers and had a jazz group called the Prince Rogers Trio.
Prince said in an interview that he was born with epilepsy and had seizures when he was young. His family encouraged him to get into music and he wrote his first tune on his dad's piano when he was only seven years old. But a few years later his parents split up and Prince was constantly moving back and forth between them - sometimes living with mom and his stepfather, sometimes living with his dad.
He eventually moved into a neighbor's home. The Anderson family had a son Andre who became Prince's friend and later became known professionally as Andre Cymone, a musician and record producer.
He formed a band while in high school and was influenced by groups like "Sly and the Family Stone", "Earth Wind & Fire" and other acts like James Brown and Miles Davis. He later adopted the on-stage look of Little Richard.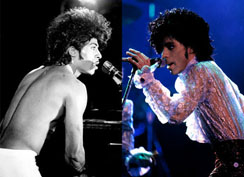 At the age of 17 the five foot, two-inch artist signed a contract to produce music at Studio 80 Studios in Minneapolis. That later led to a recording deal with Warner Brothers. By October 1979 he released an album titled after himself, which hit number four on billboard's "Top R&B/Black Albums" charts. It had two are major hits: "Why You Wanna Treat Me So Bad" and "I Wanna Be Your Lover".
By 1980 he released then album "Dirty Mind", recorded in his own studio, and in February 1981 he made his first appearance on NBC-TV's "Saturday Night Live". He's hit the big time and even served as opening act for the Rolling Stones.
By the mid '80's he referred to his band as the "Revolution" and came out with some mega hits including "Purple Rain", which was a 1984 movie.
He won an Academy Award for best original song score for "Purple Rain."
1984's "When Doves Cry" was another major hit for him.
He also scored big with his album "1999".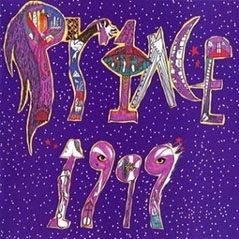 The album's title song includes one of the most widely quoted catch phrases of popular culture:
"Tonight I'm gonna party like it's 1999."
And he performed "Let's Go Crazy" live at the Super Bowl in 2007.
Other big hits included "Little Red Corvette" and Prince wrote hits for other artists like "Manic Monday", recorded by the Bangles and Cyndi Lauper's "When You Were Mine."
But by the early nineties, he changed his name to the this: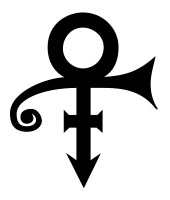 Don't worry if you can say it, as it became known as "Love Symbol #2". He also started to become known as the "Artist Formerly Known as Prince." The change was sparked in a battle with his Warner Brothers' record label over control of his material and even his name.
And there was other controversy. His song "Darling Nikki," about a one-night stand, triggered the formation of the "Parents Music Resource Center". Led by Tipper Gore, wife of Vice President Al Gore and nearly First Lady of the United States, the group encouraged record companies to place advisory labels on albums with explicit lyrics.
In his personal life, Prince was linked romantically with Madonna, Kim Basinger, Carmen Electra…

… Susanna Hoffs and Sherilyn Fenn.
He married backup singer Mayte Garcia in 1996 when she was 22…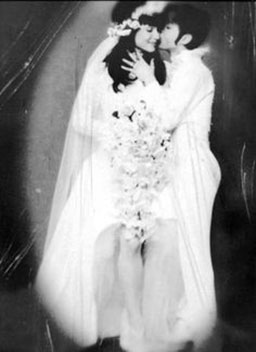 …and they had a son, Gregory, who died within a week of his birth.
Prince and Mayte divorced in 1999 and he was then married to Manuela Testolini…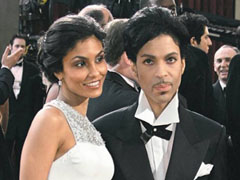 …from 2001 until they divorced in 2006. Also noteworthy, Prince was a vegetarian and he joined the Jehovah's Witnesses in 2001.
Prince and earned 30 nominations and won seven Grammy Awards. Five of his singles topped the charts and 14 other songs hit the Top 10. He won that Oscar for "Purple Rain." And in 2004, Prince was inducted into the Rock and Roll Hall of Fame.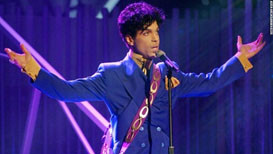 Prince continued touring and recording right up until his death, and released four albums in the last 18 months of his life.
In March, 2016, he announced on stage in New York City that he was writing his memoir. But Prince also fell ill in the spring of 2016, postponing a concert in Atlanta on April 7th. About a week later, on April 15th, his private plane had to land in Moline, Illinois City so he could seek emergency medical treatment for symptoms of the flu.
Less than a week later, and he unexpectedly died at the age of 57. It happened at his recording studio in Chanhassen, Minnesota - a town near Minneapolis. Found unresponsive in an elevator, he had been suffering from flu like symptoms for several weeks by then and had been forced to postpone several performances. No details were released.
No details were immediately released, but the next day suicide was ruled out and it was stated that there was no evidence of trauma to the body. An autopsy with a toxicological test followed, although authorities said it would take several weeks to report the findings.
Two days after he died, Prince was cremated and a small, private ceremony was held with no word on the disposition of his remains.
Prince had no surviving children and it's yet not determined how his $300-million estate will be divided. Money could be left to his sister Tyka Nelson and/or the Jehovah's Witnesses Church.
About six weeks after he died, law enforcement officials said Prince died of an opioid overdose. Specifically, autopsy results showed he died of an accidental overdose of fentanyl, a powerful painkiller that's fifty times more powerful than heroin.
The Midwest Medical Examiner's office said Prince took the drug himself.
Two doctor's names came up in the investigation of Prince's death but no charges of wrongdoing were immediately made.
And then, days shy on the one year anniversary of the pop star's death, court documents were unsealed suggesting that Prince's family physician, Dr. Michael Todd Schulenberg, and a close friend helped the star musician improperly obtain opioid painkillers. It was done by putting the prescription under the name of Prince's friend and bodyguard Kirk Johnson.
The stated reason: it was done for Prince's "privacy." But with the investigation into his death approaching the one year mark, authorities are still stumped by how Prince obtained the fentanyl.